I would like to say thank you to the over 400 nurses who recently traveled to Pittsburgh, Penn. for our biennial Nurse Alliance Conference. I heard from many nurses that they left reinvigorated to take on the challenges ahead and with a new network of colleagues to call upon. I too returned home feeling energized and excited about the future of nursing, the healthcare law and our Nurse Alliance. Check out the photographs from the conference (password is Bedside2Community, available until Nov. 15) as well as the highlight video that reflects on our work over the past two years.
I'd like to thank Jen Stange, for her stalwart and calm leadership in helping to plan this event, and Kathy Magaro, former Coordinator of the Nurse Alliance of Pennsylvania, who came out of retirement (again). They teamed up to make the conference a success. I also deeply appreciate the work of SEIU Healthcare PA.
The health marketplaces opened October 1, and have been met with overwhelming interest and enthusiasm by Americans. Over 19 million people have sought out information about lower-cost plans through healthcare.gov and state-based exchange websites. While there have been real technical challenges with the website, the Department of Health and Human Services (HHS) has brought on more staff to resolve the problems and is confident that they will be resolved.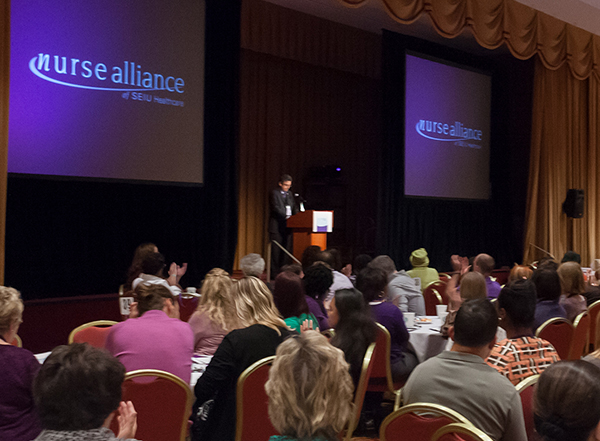 In the mean time, we are emphasizing that for states like California and New York that are running their own marketplaces, Americans can go directly to their state marketplaces for more information and assistance.  And SEIU members across the country are continuing to emphasize to their communities that that there are four ways to apply for lower-cost healthcare in federal exchange states: in person, over the phone, through the website and through the mail.
In this issue of Roundup, we highlight our healthcare fair and neighborhood canvass in Pittsburgh, celebrate the first steps toward healthcare coverage for 520,000 Pennsylvanians and 275,000 Ohioans through Medicaid expansion. We also feature a study that shows the link between job stress and depression.